5 Reasons the 2023 Honda Odyssey is the Ultimate Family Car
Published: 08-16-2023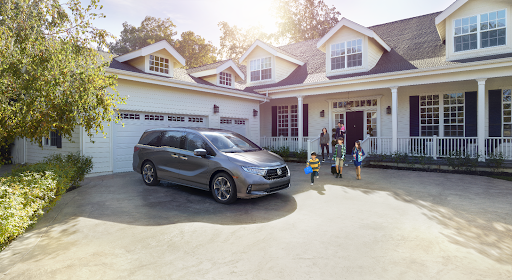 When it comes to finding the perfect family car, safety, comfort, and reliability are important features to consider for everyone. The 2023 Honda Odyssey is renowned for checking all the boxes and exceeding expectations to deliver the ultimate family car experience.
Packed with family-friendly features, spacious interiors, and advanced safety technology, the Odyssey is designed to make every journey safe and comfortable for the driver and passengers.
Exceptional Safety Features
Safety is most people's top priority when traveling with loved ones, and the 2023 Honda Odyssey epitomizes safety like never before. Equipped with the Honda Sensing suite of safety technologies, the minivan offers peace of mind on the road.
Features like Collision Mitigation Braking System, Lane Keeping Assist System, Adaptive Cruise Control, and Road Departure Mitigation System work together to help prevent accidents and keep your family safe. The Odyssey also boasts a comprehensive airbag system, a rearview camera, and available blind-spot monitoring, further enhancing the overall safety of the vehicle.
Versatile Interior
The Honda Odyssey has been designed with families in mind. With seating for up to eight passengers, there's plenty of room for everyone. The second-row "Magic Slide" seats allow for easy access to the third row, and they can be reconfigured in various ways to accommodate passengers or cargo.
Whether you need to transport a soccer team or a week's worth of groceries, the Odyssey's versatile configurations make it incredibly convenient to take on any task. Additionally, the cabin is built with high-quality materials, providing a comfortable and refined atmosphere for long journeys.
Advanced Technology
The 2023 Honda Odyssey takes connectivity to the next level. It features an available 8-inch touchscreen display with Apple CarPlay and Android Auto integration, allowing you to seamlessly connect your smartphone for music, navigation, and hands-free communication. The available CabinWatch and CabinTalk systems enable you to keep an eye on and communicate with rear-seat passengers without turning your head.
Rear-seat entertainment options, such as an available advanced rear entertainment system, keep passengers entertained on those long drives. The Odyssey ensures that every family member stays connected and engaged throughout the journey.
Comfortable Ride
Long road trips can be tiring, but the 2023 Honda Odyssey strives to make them enjoyable for the whole family. With its suspension and precise handling, the Odyssey offers a smooth and comfortable ride for drivers and passengers.
The cabin minimizes noise, allowing naps to happen undisturbed. Tri-zone automatic climate control ensures that everyone stays cool or warm, regardless of their seating position. Additionally, available features like heated and ventilated front seats, a leather-trimmed interior, and a power moonroof further enhance the comfort and luxury of the Odyssey.
Excellent Fuel Efficiency and Reliability
In addition to its family-friendly features, the 2023 Honda Odyssey is also efficient and reliable. Equipped with a powerful yet fuel-efficient V6 engine, the Odyssey delivers impressive mileage, making it an economical choice for families who frequently hit the road.
Honda's reputation for reliability and long-lasting performance adds another layer of confidence and value to the Odyssey ownership experience. With regular maintenance and care, the Odyssey is built to provide years of worry-free driving, ensuring that it remains a trusted companion for your family's adventures.
Test Drive a 2023 Odyssey Today at Central Illinois Honda Dealers
The 2023 Honda Odyssey is the essence of the ultimate family car. Its emphasis on safety, versatile interior, advanced technology, comfortable ride, and fuel efficiency sets it apart from the competition. Honda's commitment to reliability and innovation shines through in every aspect of the Odyssey, making it the ideal choice for families seeking a vehicle that caters to their every need.
With the 2023 Honda Odyssey, you can embark on your family's journey with confidence, knowing that you have chosen the ultimate family car. Stop by your local Central Illinois Honda Dealers today to learn more!