Exploring Honda's Cutting-Edge Sedan Lineup: A Blend of Technology, Safety, and Design
Published: 09-13-2023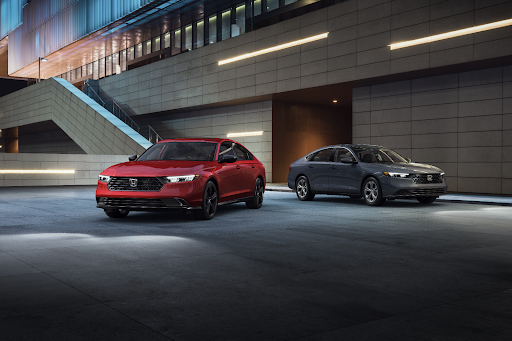 In the world of sedans, Honda has earned a reputation for itself with its innovative approach to design, safety, and technology. The Honda Civic and Honda Accord embody the brand's commitment to delivering top-notch vehicles that cater to various preferences and needs.
Honda Civic: Versatility Meets Style
The Honda Civic has been an icon in the sedan segment for decades, and each iteration continues to impress with its blend of versatility and style. With its athletic exterior, sleek lines, and dynamic proportions, the Civic boasts a modern look that appeals to a wide range of drivers. The Civic's compact design makes it perfect for urban environments, while still offering ample interior space for cargo to take on weekend adventures.
When it comes to technology, the Civic is the pinnacle of Honda's dedication to innovation. The infotainment system features a user-friendly interface with smartphone integration, keeping drivers connected and entertained. Advanced driver assistance features such as adaptive cruise control, lane-keeping assist, and automatic emergency braking are available across different trim levels, enhancing both safety and convenience.
Honda Accord: Elegance Meets Performance
The Honda Accord is a good choice for those seeking a touch of luxury and enhanced performance in their sedan. With sophisticated design elements, including a bold front grille and refined character lines, the Accord exudes an air of elegance. The Accord's spacious cabin provides a comfortable environment, making long road trips or commutes to the office a breeze.
Under the hood, the Accord offers a range of engine options, catering to various performance preferences. From fuel efficiency to dynamic driving, the Accord's engines are engineered to strike the perfect balance. The Accord incorporates the latest technological features, including a premium sound system, advanced navigation, and a comprehensive suite of safety technologies like blind-spot monitoring and rear cross-traffic alert.
Feature Comparison
Honda Civic
Compact

Modern, versatile

Infotainment system, driver assist features

Adaptive cruise control, lane-keeping assist, automatic emergency braking

Fuel efficiency to sporty options

Ample room for passengers and cargo
Honda Accord
Mid-size

Elegant, refined

Technology

Premium sound system, advanced navigation

Blind-spot monitoring, rear cross-traffic alert

Range of engines for various performance levels

Spacious and comfortable cabin
Honda's sedan lineup presents an impressive array of options with the Civic and Accord leading the charge. While the Civic embodies versatility and contemporary style, the Accord offers elegance and performance. Both models feature cutting-edge technology and a commitment to safety, ensuring that no matter your preferences, Honda has a sedan that perfectly suits your needs. With these two remarkable vehicles, Honda continues to push the boundaries of automotive excellence.