Introducing the Honda 2024 HR-V: An Overview
Published: 07-14-2023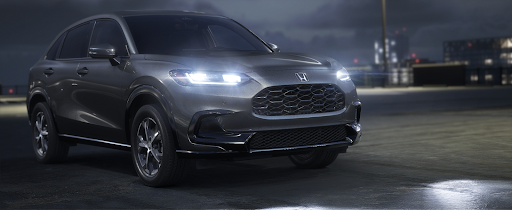 This summer will bring an exciting addition to the 2024 Honda lineup with the highly anticipated release of the new 2024 Honda HR-V. As a compact crossover SUV, the HR-V has gained a following over the years, and this year's iteration continues that trend with a blend of style, versatility, and advanced features.
Exterior
One of the most noticeable things about the 2024 Honda HR-V is its flowing exterior design, sleek lines, and bold contours. The front grille is bold and is highlighted by LED headlights which give the vehicle a distinctive presence while on the road.
Interior
Inside the cabin, the 2024 HR-V is designed to impress and promises a comfortable ride for drivers and passengers. The high-quality materials, refined styling, and customizable seating arrangements all provide a premium feel. The seats offer ample legroom and headroom for all passengers, ensuring a comfortable ride. The rear Magic Seat system, a signature feature of the HR-V, allows for customizable cargo configurations, making it easy to accommodate larger cargo.
Technology
In terms of technology, the tech-savvy HR-V comes equipped with Honda's most up-to-date features, including a touchscreen display, smartphone integration, and advanced connectivity options. The 2024 model also includes hill descent control, multi-link rear suspension, and available 8-speaker sound system and wireless phone charger.
Safety Features
Safety is also a top priority, and the HR-V will offer Honda Sensing, a comprehensive suite of driver-assistance features, including adaptive cruise control, lane-keeping assist, and automatic emergency braking.
With its compact size, the HR-V is ideal for navigating both city streets and open highways, striking a balance between maneuverability and practicality. Its fuel efficiency, along with Honda's reputation for reliability, makes it an attractive choice for daily commuting and weekend adventures alike.

With its refreshed design, advanced technology, and versatile capabilities, the 2024 HR-V is poised to capture the attention of both loyal Honda enthusiasts and new customers looking for a stylish and functional vehicle.
Visit Central Illinois Honda Dealers To Learn More
The 2024 Honda HR-V promises to be an exciting addition to the Honda family, combining the best elements of a compact SUV with the reliability and ingenuity that Honda is known for. To learn more or take a test drive, visit your nearest Central Illinois Honda Dealers today.